Flowers, candy, and chocolates are part of the many gifts that bear the hallmarks of the 14th of February, globally known as Valentine's Day. Although such items might seem mundane in today's everyday life, that is far from the truth. These items made up a staggering 3.5 billion dollars worth of gifts spent on this occasion annually in the United States.
Although the occasion is widely celebrated, most have little to no idea how it all started. That being said, this is the story behind the celebration that has lasted long in time with many inconsistent tales that amounted to the creation of Valentine's Day.
From multiple undocumented Christian martyrdom accounts of three different Valentines to a brutal and debaucherous festival, the story of how Valentine's Day gained its name and historical significance is rather ironic given that the event connotates lily-white images rather than one that is blood and lust-filled. Nonetheless, these apocryphal stories are sure to prove that love truly triumphs even in the harshest of times.
Why flowers make a great gift
Much like the history behind Valentine's Day, the reason why flowers are gifted on February 14th is also one that is shrouded in multiple myths. Some believe flowers became a part of Valentine's Day tradition back in the 17th century where on a trip to Persia, King Charles II of Sweden found a new expression of art and conversing—the language of flowers. Thus born the new way of communication purely with flowers and no words. From thereon, flowers come to represent various meanings depending on their colours. Yellow symbolises disappointment; purple for forgiveness; and as one might expect, the red associated with rose translates to love and affection.
But that is not all, however. In some cases, roses are associated with Aphrodite, the goddess of love in Greek mythology. It is said that rose bushes grew from the ground are sprinkled with Aphrodite's tears and the blood of her lover, Adonis. (Blood is thicker than water, eh?).
Why chocolate?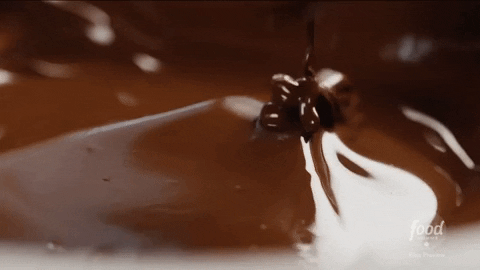 Whether or not it is an aphrodisiac food remains debatable, but there is just no denying that chocolate oozes sweetness and happiness on any occasion which makes it the perfect fit for Valentine's Day with its incomparable saccharine tastes and of course, the romantic feeling it evokes. While the consumption of chocolate is nothing new, the idea of tying chocolate with Valentine's Day was a novelty back in the 19th century.
As most of the English-speaking world had grown accustomed to Valentine's Day celebration by the mid-1800s, one then-relatively known confectionery company in England named Cadbury saw a marketing opportunity for this occasion. This then went on to dictate the notions and colours that link chocolate and romance together for centuries on.
Richard Cadbury, an heir to the chocolate manufacturing company, set out to create a more refined taste in chocolate products that are economical in a time where cocoa was limited and expensive. Not only that, but Richard also sought out to create multi-purposed heart-shaped boxes, one for the chocolate and the other for mementos. These Valentine's Day exclusive chocolate decorated with cupids and roses were popular during the Victorian Era as they symbolise love and remain so to this day!
Modern-day Valentine's Day marketing
Although Cadbury produces a variety of chocolate products to this day, its biggest success remains undoubtedly the ingenious Valentine's Day themed chocolate campaign which forever changed how people conveyed love on the 14th of February.
The commercialisation of Valentine's Day lives on centuries later as countless other companies attempted to take a crack on selling lovers' day themed products. Statistics showed that Americans alone spent $27.4 billion on the occasion in 2020 with the average amount spent sat at $196.31 per person, a notable surge from the $161.96 in 2019.
All these numbers point towards the fact that consumers are willing to spend for their significant others, thus giving marketers a great opportunity to capitalise on this sentimental occasion. With effective marketing that speaks well, advertisements surely could tug one's heartstrings easily. Here are three great examples of contemporary Valentine's Day marketing.
Three examples of contemporary Valentine's Day marketing
Starting off with a personal favourite, here is one that speaks to us well as it makes a great gift for potential and existing clients. Evans Hunts, a creative agency, created this one of a kind gift that consists of a uniquely designed packaging and input of romantic phrases with a twist that goes oh-so-well with the ad agency's doings. Some examples include an inside joke as "Talk Copy to Me" and a tongue in cheek "Twist My Headline". These almost satirical gifts are sent out to clients in a box designed with nostalgic stylised typefaces that read "Agency Sweet Hearts", making it a perfect gift for an often overlooked recipient on Valentine's Day.
While people generally go for confections on Valentine's Day, it by no means discount the fact that fried chickens make great alternative food to bond over on the day! Plus, it appears to be timely to see two companies teamed up to offer couples a little love with limited-time deals and exclusive KFC bucket rings designed and crafted by local jewellery brand Gemnesis. Now those are deals one would hardly see coming!
Nothing beats ideas that venture out of the box but yet manage to keep things simple instead of overblown. One such idea is the well-aged surprise advertisement by Google that appeared during the 2010 Super Bowl. Utilising the most-watched sporting event in America, Google delivered an epic love story that is all conveyed within the iconic search bar.
Nonetheless, the company delivered a timely message that resonates still 11 years on with a simple tool that is widely recognisable, which shows simple storytelling can leave a great emotional impact on your customers.
At LOOP, we are celebrating this Valentine's Day in the most romantical way possible albeit staying safe and true to what we do best! Looking for the ideal Valentine's Day gift? Why not get in contact with us to learn how you can turn seasonal events such as this occasion into great marketing campaigns in the future? To get started, simply drop by for a 15-minute call with our lead Marketing Consultant today!
Have a specific topic you'd like us to cover? Let us know!
This article was contributed by Philip Phang.