Scientists run experiments to test hypotheses. Similarly, in marketing, we test conversion funnels in hopes of building the best funnel that will bring the highest conversion rate. As mentioned, the greatest advantage of marketing funnels is the measurability and attribution (If you haven't read our article on Funnels, click here to read).
However, to obtain accurate results, there needs to be a whole lot of testing done prior. Testing allows you to compare and contrast the different elements of your email campaigns, and to see how it affects your subscribers' reactions to them. Ultimately, testing enables you to optimise your conversion rate.
Testing Tools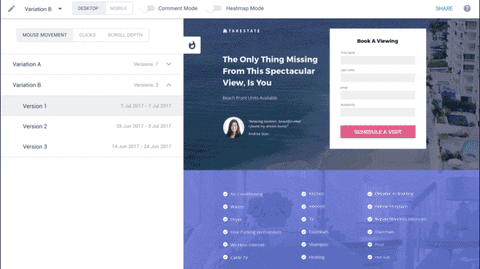 Heatmaps, also known as the older and sometimes-forgotten-about big brother in the family of CRO (Conversion Rate Optimisation) tool, is a tried and true method of testing for many years. Heatmaps make it easier to visualise complex data and understand it at a glance. The colour 'Red' is used to indicate the most popular (hot) elements of a webpage or email, whereas Blue colour indicates the most unpopular (cold) elements. Pretty straightforward, right?
As a visual tool, heatmaps help marketers like you make informed, data-based decisions for A/B testing, updating, or (re)designing your email. Additionally, they help you understand how people interact with your emails. With this, you can also determine if people are reading important content or failing to see; finding and using links, buttons, and CTAs; as well as experiencing issues across devices.
Another test that is commonly conducted for funnels is A/B Test or some may identify it as the "Split Test". Essentially, these two tests are the same concept but they're not identical. In brief, A/B refers to the two variations of the same URL, meanwhile, Split refers to the traffic redirection towards one variation or the other(s), each hosted on its own URL. But at the end of the day, these two tests work the same.
Depending on the testing hypothesis you put forth, the variables may be different in many aspects. In the context of emails, this variable can be your subject line, pre-header, delivery time, call-to-action, or content. Subject lines are easily the no.1 tested element of emails as they are the first point of contact with new customers and new subscribers. So, don't be afraid to test different length, topic, or tone of subject lines!
Based on our experience, we have a client who likes their emails to be very lengthy and in-depth. At first, we thought the emails would perform terribly because they usually surpass the average reader's attention span that is 11.1 seconds. It was an unexpected turn when the analytics have proven that this client's subscribers enjoy long reads and juicy details. Thus, it is all about knowing who your audience is and what they like. Don't know what they're like? Stop guessing, start testing.
Want to know more about testing funnels or learn how to run a test yourself? Get on a 15 mins call with our lead Marketing consultant.